Juki LU-1560N 2 Needle Unison Feed Lockstitch Industrial Machine Unison Feed Walking Foot Lockstitch Industrial Machine – Double-capacity Hook
With its reliable feed and consistent seam quality, the machine responds outstandingly to the sewing of heavy materials.
With its larger needlebar stroke, higher presser foot lift, and newly adopted double-tension mechanism, the machine offers excellent sewing capabilities and responsiveness. The alternating vertical movements of the walking foot and presser foot are as large as 6.5mm. In addition, the ratio between alternating vertical movements of the walking foot and presser foot remains unchanged even when the material thickness changes. Thanks to this feature and the adoption of a new method of rectangular feed that prevents needle from fraying, the machine sews multi-layered parts of a material with consistent stitching pitch while preventing stitch gathering.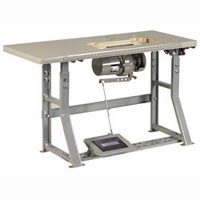 This Package includes a Fully Assembled Table and a SERVO Motor.
The motor can be upgraded to an adjustable-speed servo motor for only $79. Simply choose the servo motor upgrade option from the drop down menu during checkout.
High-Speed Performance
The machine delivers increased productivity at sewingspeeds as high as 3,000 Stitches per Minute
Consisting only of a moving knife and counter knife, the simple and well-balanced thread trimming mechanism is capable of cutting thick thread up to without fail.
Automatic Reverse Feed
With just a light press on the one-touch type reverse feed button, reverse feed stitching is actuated. Furthermore, if a suspended ruler is attached on the machine or a 3-dimensional sewing product is sewn, the button can be shifted upward to prevent interruption.
Machine Specifications
| | |
| --- | --- |
| Max. Sewing Speed | 2,500 Stitch per Minute |
| Max. Stitch Length | 9mm (forward / backward) |
| Needle Bar Stroke | 36mm |
| Lift of the Presser Foot by Hand | 9mm |
| Lift of the Presser Foot by Knee | 16mm |
| Thread Take-Up | Slide Type |
| Amount of Altering Vertical Movement | 2.5~6.5mm |
| Hook | Horizontal-Axis Full-Rotary Double-Capacity Hook |
| Needle (at time of delivery) | 135×17 (Nm160) Nm125~Nm180 |
| Thread | #30~#5, B46~B138, Nm=60/3~15/3 |
| Pitch Changing Method | By Dial |
| Lubrication | Centralized Oil Wick Lubrication (hook:automatic) |
| Lubricating Oil | Juki New Defrix oil No.2 (equivalent to ISO VG32) |
| Distance from Needle to Machine Arm | 264mm |
| Bed Size | 477x178mm |
| Motor Output | 750W |
| Weight of the Machine Head | 36.5kg |